💰 Tax included. Fast express free shipping in UK.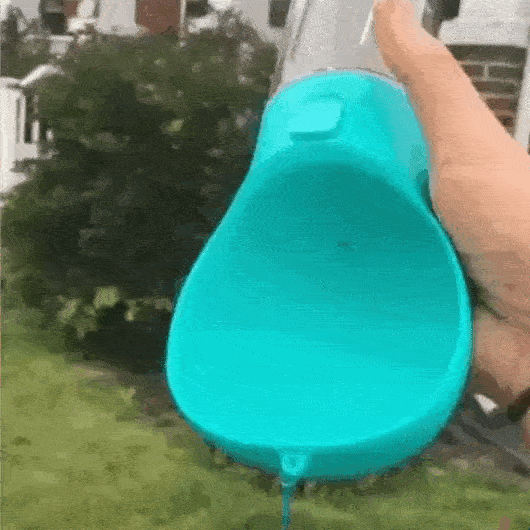 Keep your pup happy and hydrated on the GO.
The innovative 4 in 1 design of Puppy Go includes a water bottle dispenser, a convenient food storage, an O-shaped bowl, a poop shovel and even a poop bag dispenser, making it the perfect accessory for your daily walks, hikes, and travel.
Made with high-quality, FDA-approved and BPA-free antibacterial material, this durable and leak-proof water bottle is not only safe for your pet to use but also built to last.
Versatility: The 4 IN 1 Puppy Bottle Feeder is a multifunctional tool that can be used as a water bottle, food dispenser, treat container, and poop bag dispenser. This makes it an all-in-one solution for pet owners who want to carry everything they need for their puppy in one convenient package.
Ease of Use: The bottle is designed to be easy to use and clean. It comes with a wide mouth that makes it easy to fill and clean. The bottle also has a leak-proof design that prevents spills and messes.
Durability: The 4 IN 1 Puppy Bottle Feeder is made of high-quality materials that are designed to last long. It is sturdy and can withstand wear and tear, making it ideal for outdoor activities.
Portability: The bottle is lightweight and compact, making it easy to carry around. It is perfect for pet owners who love to travel with their pets or take them on outdoor adventures.
Fast shipping within the UK, US, CA and usually takes between 2-5 business days. Free shipping takes about 7-15 business days.
✅ All products can be returned within 90 days after receiving it. To learn more, please visit Return & Refund Policy.
Join us and Subscribe YOUTUBE channel @barkbarking, get more fun from puppy.
Grooming, Walking, Home fun ... All-In-One kIT!
Simplify pet parenting ! We have curated essential products for easy dog care, including grooming, walking, enrichment and home fun.
5 reviews for
4 IN 1 Puppy Feeder
Reviewed by 05 customer(s)
Pretty handy

It's a bit large, very useful! I just wish the shovel would be a little tighter because it does slip without you noticing.

Saved my mind

I ordered another after checking out the first. I keep one in one car and the other in the other. Gives me peace of mind to keep my babies hydrated. They won't use any other. 🤣

Puppy traveling in style!

It's cute and serves its purpose. My friends even got one for their dogs when they saw this. Our puppy is traveling in style!

nice item

I haven't used this a lot but I really like it and how it's made.